2000 WORLD TEAM OLYMPIAD WINNERS



Open Series






Women Series






University Cup






Seniors Cup






Transnational Mixed Teams





E-BRIDGE

The 11th World Bridge Team Olympiad took place in Maastricht, The Netherlands. This top-level competition started officialy on 26 August and was concluded with great success on 9 September 2000.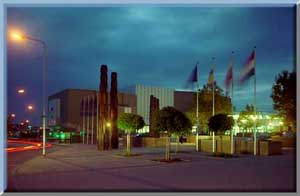 The tournament was organized by the World Bridge Federation in cooperation with the Dutch Bridge Federation (Nederlandse Bridge Bond). It was held at Maastricht's well known convention centre MECC.
For two weeks national teams from 76 countries and five continents competed for prestigious medals in two series, Open & Women. The World Mixed Teams, allowing transnational combinations, was also held in Maastricht, from 6 to 9 September.
Two more events took place in Maastricht, 27 August - 2 September:
the 1st World University Teams Bridge Cup and the 1st Seniors International Cup.
Days and Rounds
Daily Bulletins
Open
Women
Uni-
versity
Seniors
Internet Edition
PDF
Sunday 27 August

1 2
1 2 3
1 2 3 4
1 2 3 4
Monday 28 August

3 4 5
4 5 6
5 6 7 8
5 6 7 8
Tuesday 29 August

6 7
7 8
9 10 11
9 10 11
Wednesday 30 August

8 9 10
9 10 11
12
12 13 14 15
Thursday 31 August

11 12
12 13 14
13 14 15 16
16 17 18 19
Friday 1 September

13 14 15
15 16 17
17 18 19 20
20 21 22 23
Saturday 2 September

16 17
Cross Table
18 19
Cross Table
21
Sunday 3 September

Eighth-
Finals
Eighth-
Finals
Cross Table
Cross Table
Monday 4 September

Quarter-
Finals
Quarter-
Finals
Transnational
Tuesday 5 September

Semi-
Finals
Semi-
Finals
R1 R2 R3 R4
Wednesday 6 September

Semi-
Finals
Semi-
Finals
R5 R6 R7 R8
Thursday 7 September

Final
Final
R9 R10 R11 R12
Friday 8 September

Final
Final
R13 R14 R15 R16

Saturday 9 September

Final

Sunday 10 September
| | |
| --- | --- |
| version 4 | PDF: a format which allows you to see the bulletin on your monitor almost as it is printed. It can be printed on any printer but it requires the Adobe Acrobat Reader version 4 or later to be installed in your computer. Download the latest version of Adobe Acrobat Reader free of charge by clicking on the icon. |