MAASTRICHT (pop. 120,000), capital of Limburg province, lies in the southeastern Netherlands, on the Maas River, near the border with Belgium. It is an industrial center in which textiles, chemicals, ceramics, and glass are produced. There are many historic structures, including the Cathedral of Saint Servatius, founded in the 6th century, the oldest church in the Netherlands. Maastricht is also a noted cultural center with a music conservatory, symphony orchestra, and natural history museum.
Maastricht is an exciting place with a great deal to enjoy. It offers limitless entertainment and an exotic ambiance. Maastricht is also a multifaceted place. This city has it all - culture, history, sport and fine cuisine.
Stroll along its romantic streets, taking in the beautiful facades and the eye-catching windows of the city's many exclusive shops. Enjoy the parks, look out over the ricer Maas and then take a breather at one of the many pavement cafés. Maastricht is known for its friendliness and hospitality. Unique in the Netherlands, life in the city is characterized by a sense of 'joie de vivre'.
Maastricht has declared the year 2000 to be as 'the year of bridge'. This will be noticeable throughout the city.
MECC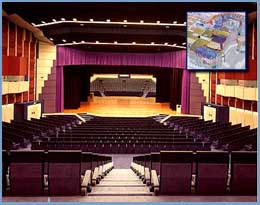 The Bridge Olympiad will be held in the Maastricht Expositie en Congress Centrum (MECC), an ultramodern trade fair and conference canter.
During the Olympiad, the MECC will feature a bridge village with a wide range of stands representing, for instance, the Netherlandse Bridge Bond, the Bridge Museum and selling gift items, books, etc.
The MECC's facilities include restaurants, a bank, a hair salon, a fitness center and a traditional pub. For more information about the MECC, please call 31-43-383 8383 or have a look at their Internet site: www.mecc.nl.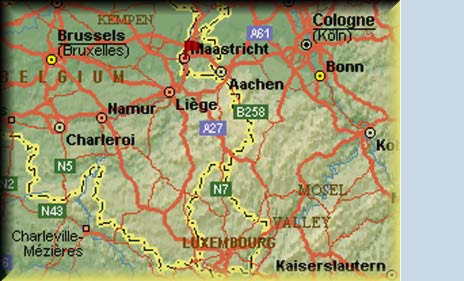 Transportation

By train
Maastricht Randwijck Station is located 250 meters from MECC.
There are regular trains to Maastricht Central Station, which is linked to the international network.

By plane
Maastricht/Aachen airport is located 10 kilometers from MECC and only fifteen minutes away by car, taxi or bus.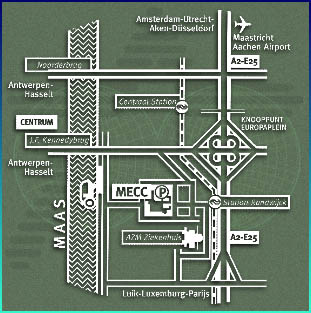 By car
As you reach Maastricht, you will see signs for MECC. Follow them to get to MECC's car parks (P0-P7).

By bus
Maastricht's metropolitan bus company runs a regular service between the city center, Maastricht Central Station and MECC. There is a bus about every five minutes (Forum bus stop).