resh from the record success of the previous competition in Stargard, Poland, where nearly 450 young players took part, the WBF Youth Committee is pleased to announce the fifth event of the series. The World Junior Pairs Championship is the natural supplement to the World Youth Teams competition for the Ortiz-Patiño Trophy, and a necessary part of the WBF program for the development of bridge among young people worldwide.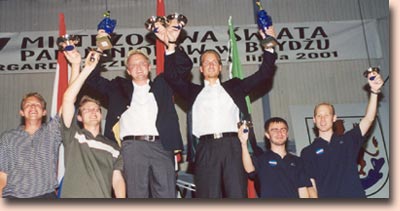 Silver medalists Bas Drijver-Sjoert Brink of the Netherlands,
World Champions Andreas Gloyer-Martin Schifko of Austria and
bronze medalists Fabio Lo Presti-Francesco Mazzadi of Italy
- celebrating their victory in Stargard '01
The World Junior Pairs Championship is designed to be a massive event in order to promote friendly contact between Juniors as much as possible. This is accomplished by not limiting the number of entries from any country, allowing the participation of transnational pairs, and by not splitting the competition into diverting stages.
The World Junior Pairs is a biennial tournament, conveniently held in conjunction with the World Junior Camp on consecutive dates and at the same or nearby places. This arrangement follows the successful European format, and the WBF thanks the European Bridge League and the Hungarian Bridge Federation, this year's hosts, for their support in our effort. The WBF Youth Committee is confident that all NBOs will encourage and support their Junior players to participate in the World Junior Pairs Championship and looks forward to welcoming them in Tata.
The Junior Pairs Championship started as a European event in 1991. In 1995 it was expanded into a world competition, incorporating the European one. Previous venues and winners of the biennial competition have been:
Year

Venue

Attendance

Winners

1995

Ghent
Belgium
154 pairs
24 countries
Boye Brogeland - Geir Helgemo
Norway

1997

Santa Sofia
Forlí, Italy
156 pairs
27 countries
Stefan Solbrandt - Olle Wademark
Sweden

1999

Nymburk
Czech Republic
186 pairs
30 countries
Andreas Gloyer - Bernd Saurer
Austria

2001

Stargard
Poland
220 pairs
30 countries
Andreas Gloyer - Martin Schifko
Austria