Date
Daily Bulletin


(PDF Format)

Results
Round
Cumulative
Friday, 6 July
1
1
Saturday, 7 July
2 - 3
2 - 3
Sunday, 8 July
3
4
<% MyRs.close Set MyRs= Nothing MyConn.Close set MyConn=nothing %>
Fresh from the record success of the previous event in Nymburk, Czech Republic, where nearly 400 young players took part, the WBF Youth Committee is pleased to announce the fourth event of the series. The World Junior Pairs Championship is the natural supplement to the World Junior Teams competition for the Ortiz-Patiño Trophy, and a necessary part of the WBF program for the development of bridge among young people worldwide.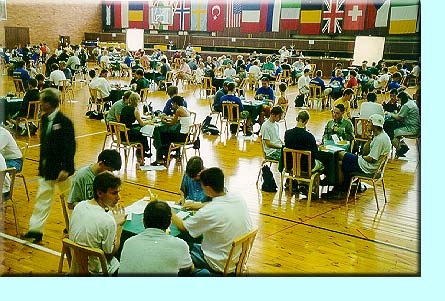 The World Junior Pairs Championship is designed to be a massive event in order to promote friendly contact between Juniors as much as possible. This is accomplished by not limiting the number of entries from any country, allowing the participation of transnational pairs, and by not splitting the competition into diverting stages.
The World Junior Pairs is a biennial tournament, conveniently held in conjunction with the World Junior Camp on consecutive dates and at the same or nearby places. It was introduced in 1995 following the successful European format. Previous venues and winners have been: