he 6th World Junior Bridge Team Championship will be held in Hamilton, an attractive city in the province of Ontario, Canada, from 4 to 13 August 1997. All Zones of the World Bridge Federation are invited to participate in this prestigious tournament. Each Zone may be represented by one or two teams, except Zone 1 (Europe) that can enter up to four teams and Zone 2 (North America) that can enter up to three teams. Conditionally, a third team will be accepted from Zone 6 (Pacific Asia). The host country is also invited to take part with one team. In general, players may be up to 25 years old. The Championship consists of a qualifying stage, semifinals, a final and a playoff for third place. The winners of the final will be the new World Junior Champions: they will receive the Ortiz-Patiño Trophy and silver replicas for each player and the non-playing captain. Those failing to qualify will be able to participate in a Swiss Pairs contest to be arranged exclusively for young people. This is the sixth event of the series that was inaugurated in 1987 in Amsterdam, the Netherlands. As a biennial competition, it was held in 1989 in Nottingham, Great Britain; in 1991 in Ann Arbor, Michigan, USA; in 1993 in Århus, Denmark; and in 1995 in Bali, Indonesia. The host country won the Championship on the first three occasions, but this tradition was broken in 1993 by Germany. The reigning World Junior Champions are Great Britain; the first country to win the title twice.
CANADA is the world's second-largest country (after Russia) and comprises all the North American continent north of the United States, with the exclusion of Alaska, Greenland, and the tiny French islands of St. Pierre. It has a total population (1991) of 28 million, but about 80% of this number live within 160 km of the U.S. border on the south; approximately 89% of the country is virtually unsettled. Because of these vast tracts of virtually uninhabited northern forests and tundra, Canada has one of the lowest population densities in the world. Politically, Canada is a self-governing federal union of ten provinces and two territories, within the British Commonwealth. The great majority of Canadians are of European descent, born in Canada. The province of Ontario is located in central Canada, west of Quebec and north of the United States. It has Canada's largest population, while it is second in size only to Quebec. A fundamental contrast exists between southern Ontario, with the bulk of the province's population, manufacturing, and agriculture, and northern Ontario, which is sparsely settled and dependent on mining and forestry.

Hamilton (pop. 300,000) is a port city situated at the western end of Lake Ontario, half way between Toronto and the Niagara Falls, some 50 km from Toronto International Airport. Located in an extensive fruit-growing area, the city is the site of one of Canada's largest open-air markets, and it is one of the country's major financial centers.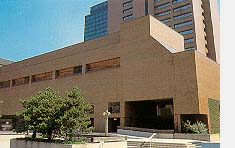 The tournament will be played at the Hamilton Convention Centre, in downtown Hamilton, which combines first class convention facilities with numerous possibilities for shopping, dining and entertainment within a few steps.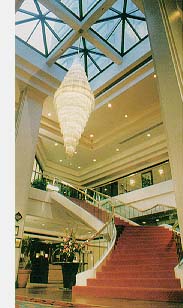 Accommodation to all participants and accompanying guests will be offered at the Sheraton Hamilton. This is a luxury hotel, directly connected to the Convention Centre, with superb facilities including a Mediterranean pool, health club and jacuzzi. The organizers will provide free transportation from Toronto airport to the hotel and vice versa to all visitors. Greatly reduced rates for players, team officials, journalists and accompanying guests have been negotiated. Single and double rooms are available at Canadian Dollars $112 and $70 respectively, per person per night, full board (i.e. with breakfast, hot lunch and hot dinner served in the Convention Centre).




Format

The Championship consists of a qualifying stage, semifinals, a final and a playoff for third place. The qualifier is a round robin where each team meets all other competing teams in matches of 16, 20, 24 or 32 boards, depending on the number of entries. The four top teams will advance to the 64-board semifinals. The two semifinal winners will play in the 96-board final from which the new World Junior Champions will emerge; the losers will participate in a 64-board playoff to determine third place.

A special Swiss Pairs tournament will be arranged for those failing to qualify. Any other Junior player may also participate in this event, which proved so popular in Denmark '93 and Bali '95. No nationality restrictions will be imposed on the composition of the competing pairs.

Programme

The Championship will start on Monday 4 August 1997 with a Reception by the Mayor of Hamilton at 17.00 hrs. The Opening Ceremony will follow at 20.00 hrs. The Captains' Meeting is scheduled for 15.00 hrs, the same day. The qualifying stage will begin on Tuesday morning and will continue until Sunday 10 August, with free times for trips to Niagara Falls and Toronto. The semifinals will be played on Monday 11 August, the day the Swiss Pairs begin. The final will start on Tuesday, together with the playoff for third place. The Swiss Pairs and the playoff will be concluded on this day, while the final will continue until Wednesday afternoon. The Championship will end with the Victory Banquet on the evening of Wednesday 13 August 1997. Departure is on Thursday, after breakfast.


The Championship is open to all Zones of the World Bridge Federation. Zone 1 may enter up to four teams; Zone 2 up to three teams; the rest of the Zones up to two teams each. The host country is also entitled to participate with one team. Subject to the total number of participating teams not exceeding 18, Zone 6 will be invited to enter an additional (third) team. Each team consists of 4-6 players, a non-playing captain and, possibly, other officials.

Age limit
In general, all players must have been born on or after 1 January 1972. However, players born in 1971 are also eligible to participate provided they qualified for this Championship through an official zonal competition which took place in 1996. Participation is by invitation only. When applying, NBOs are required to submit, for consideration by the Credentials Committee, the full name of each team member (player, captain, etc.), as well as the exact date of birth of each player. Upon arrival, captains will be requested to present the passports of their players for verification of the age eligibility.

Entries
The Entry Fee to the tournament is US $500 per team. No additional fee will be charged for the Swiss Pairs.

Systems
All systems of bidding and card play must comply with the WBF Systems Policy. Each pair is required to complete an official Convention Card and lodge it with the Appeals Committee within the available time limit.




Prizes
The winners of the Championship will receive the Ortiz-Patiño Trophy, to be kept for two years, and also silver replicas for each player and the non-playing captain. Medals and souvenir gifts will be given to the first three teams. Valuable prizes and souvenir gifts will be given to the leading competitors of the Swiss Pairs.
WBF Zone
Maximum allowed
Teams
1
Europe
4
Denmark
Israel
Norway
Russia
2
North America
3
Canada Red
United States 1
United States 2
3
South America
2
Argentina
Brazil
4
Asia, Africa & Middle East
2
India
Pakistan
5
Central America
2
Colombia
Martinique/Guadeloupe
6
Pacific Asia
2
China
Japan
Chinese Taipei
7
South Pacific
2
Australia
Host country
Canada
1
Canada White
Total
18
18
Visitors to the Championship are very welcome. There will be a Daily Bulletin, and a Vugraph presentation with expert commentary in every round throughout the tournament. During the qualifying stage (round robin), a limited number of spectators will be allowed into the playing rooms.

For entries
and general information
WBF Youth Committee
Panos Gerontopoulos
154 Patission Street
GR-112 57 Athens
Greece.


30-1-864 3139

30-1-861 3740

For hotel reservations
and local information
WJC Housing Bureau
Maureen Culp
2524 Linwood Street
Pickering, ON L1X 2P6
Canada.


1-905-420-6204

1-905-420-2701
---

Return to Top of page
To main Competition page