he venue of the 1999 World Junior events, NYMBURK SPORTS CENTRE, is a fully equipped facility for the organization of sports functions.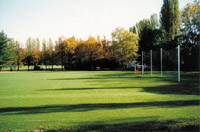 Situated in an attractive private environment, on the edge of the town of Nymburk (55 km east of Prague), the Centre offers fields for some 20 Olympic sports, club rooms, a swimming pool, sauna, etc.
Nymburk can be reached by car from capital Prague following D11 (E67) motorway up to Trebestovice, and then taking local road 38.
The Czech Federation will be providing free transportation to all participants from Prague airport and railway station (Monday) and vice versa (Wednesday) for those giving advance notice.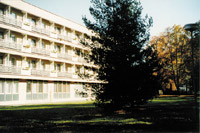 All participants will be lodged in Nymburk Sports Centre, in double or 3-bedded rooms with private facilities (WC, bath or shower).
Three meals a day will be served at the Centre's restaurant.
A spacious hall will be available 24 hours for bridge and other indoor activities.
The cost of full-board accommodation in the Centre for all nine Camp nights is SF 450 (Swiss francs), payable upon arrival.
SPORTOVNÍ CENTRUM NYMBURK
Na Ostrove 1809, CS-288 35 Nymburk, Czech Republic
Tel.: 42-0325-512 946 • Fax: 42-0325-513 867