WBF President Damiani declares Lille Games open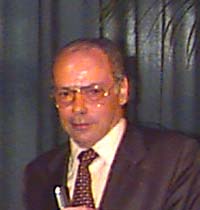 You will understand that I first wish to address Mr. Pierre Mauroy, senator and mayor of Lille, to thank him, not only in the name of the World Bridge Federation and the Federation Francaise de Bridge, but also in your name, for the warm welcome that he has reserved for us here in this magnificent reception room of the Town Hall. The adventure began some years ago when France was chosen to organise these world championships. It was from that time that Minister Martine Aubry, with the support of the region, the European Union and the president of the Chamber of Commerce and Industry, Mr. Patrick Van Der Schriek, and the president of the Committee Grand Lille, Mr. Bruno Bonduelle, took every step to insure that Lille became the reality it is today, based on an idea put forward by Jean-Claude Lefrancois and implemented by Patrick Grenthe, president of the Committee of Flanders.
It is the support of all of them, coupled with the incomparable kindness and unfailing efficiency of the municipal services and those of the Lille Grand Palais that I wish to salute. For our part, it is the third time we have organised the championships, after Biarritz in 1982 and Geneva in 1990, and I sincerely believe that Jean-Claude and I have managed to put the experience gained at your service. The whole of the French Bridge Federation, under the direction of President Michel Marmouget together with our international staff have only one aim: to ensure a quality competition for you by using all the most recent technology which we owe to the support of our private partners. I would like to thank them all sincerely, whether it be the Société Général, Louis Vuitton, Vivendi, Elf, the Jean Besse Foundation, Lipton Iced Tea, Tropico, Weston, Café de Colombie, Chateau d'Eau, Aberlou, Coralia, and all our technical partners: Air France, Citroen, Compaq, Darty, France Télécom and Ricoh.
Bridge, which has been admitted into the Olympic family and is a candidate for the Winter Olympics, has now entered a phase of development in which you are the actors. These championships will bring together around 80 of the 110 members' countries, and you will participate in the largest event that has ever taken place, with participants aged from 9 to 99 years, from the youngest to the oldest, both men and women. If the competition is, as you know rigorous, and I know I can count on you to ensure that the ethics are exceptional, a convivial atmosphere should reign, thanks to the conditions that we have prepared and to the welcome of the inhabitants of Lille. I wish all of you an excellent stay in Lille and I have the honour and the privilege of declaring these 1998 World Bridge Championships open.
Lille mayor welcomes players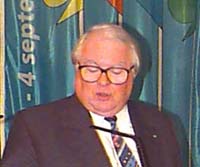 Pierre Mauroy, mayor of Lille and former prime minister of France, issued a warm and cordial welcome to all competitors at last night's opening ceremony at the Lille Town Hall.
"France, and particularly Lille, a European metropolis, is happy to welcome you and to become, during the next fortnight, the world capital of bridge," he said as he opened his address. He continued, "I want to extend a particular welcome to the many players who have come from more than 80 countries, from the five continents, to speak the universal language of bridge for two weeks in our city . . . We have the opportunity to underline how all possible means should be used to unite people, be they political, sporting or cultural."
He took a moment to salute Pierre Ghestem, a world champion; Michel Demol, 1998 French champion, and Jerome and Guillaume Grenthe, members of the French Junior team, all of whom are natives of this area. Mayor Mauroy offered some thoughts on bridge in general. "
Over the years, bridge has undergone many changes which have progressively transformed a game sometimes thought to be a little elitist into a truly intellectual discipline with a large popular audience. Bridge is indeed a universal game, which nowadays brings together men and women of all ages from all backgrounds. The game has a triple objective: to think, to enjoy and to win. "It is a school of self control, intellectual emulation and tactics whose success is growing in schools where it proves it can be accessible to all. 420 students already play bridge in our region in nearly 20 schools, and 300 of them are going to participate in Lille." Olympic recognition of bridge as a discipline in the Winter Olympics was warmly backed. "This will be an extra advantage for a game which today has acquired a strong international following, thanks to becoming more democratic."