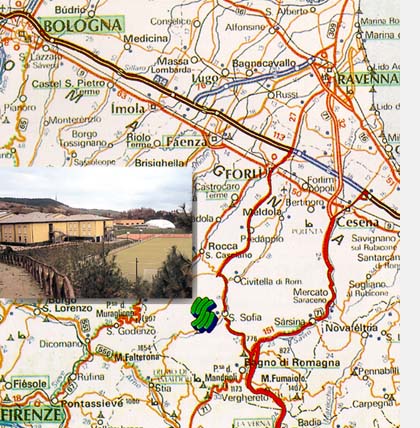 SPORTILIA, the venue of the 1997 World Junior Bridge events, is a multi-purpose residential center for the practice and fostering of sports situated in the countryside of the Tuscany-Romagna Appennines, Italy's backbone mountains, 800 meters (2,600 ft) above sea level, in an ideal setting of lawns and woods. Extending over an area of 170,000 square meters (42 acres) in the municipality of Santa Sofia, district of Forlí, SPORTILIA can be reached from the Bologna-Ancona and Rome-Cesena motorways and is close to the airports of Bologna and Rimini. Equipped with state-of-the-art sports facilities, SPORTILIA is a fully-integrated center designed to satisfy sporting requirements at every level. Facilities (available free of charge to all participants) include:

a stadium


two grass football fields


one synthetic grass pitch for hockey and rugby


courts for hand-ball, basketball, volleyball and tennis


outdoor health and fitness course, etc. The Pairs Championship will take place in the Sports building, an 1,350 square meters (4,430 sq ft) indepedent structure, while the spacious lobby will be available 24 hours during the Camp for bridge and other indoor activities. Accommodation All participants will be lodged in Sportilia, where 3- or 4-bedded rooms with private facilities (WC, bath or shower) are available. Three meals a day (breakfast, lunch, dinner) will be served at Sportilia's restaurant. Transportation. The Italian Bridge Federation (FIGB) has kindly agreed to offer free transportation to all participants from Rome airport or Bologna railway station to the venue and vice versa.