• France
France, one of the largest countries in Western Europe, lies south of Belgium, west of Germany and Switzerland, north of Spain and north-west of Italy. It covers an area of 544,000 square kilometers and is home to some 60 million people. Roman Catholicism is the faith of more than 90 per cent of French churchgoers. The official language, spoken by the great majority of people, is french.
France was known as Gaul during the Greek and Roman periods. In the 5th century, Gaul was conquered by the Franks who turned christian. Various dynasties ruled the country, including the Merovignian, Carolingians (Charlemagne), Capetians, Valois and the Bourbons until 1789 when the people of Paris rebelled and forced the abolishment of all feudal dues and privileges, hereditary nobility, and titles. Three years later, the French Republic was born. However, democracy was not to last long, as a young general, Napoleon Bonaparte, staged a coup d' etat and seized government at the turn of the 19th century. In 1804, Napoleon established the French Empire and crowned himself Emperor. The 19th century was a period of political instability, with monarchy and democracy succeeding one another.
In the 20th century, France was involved in both World Wars, but, although ultimately a victor the country suffered extensive losses in its empire, wealth, manpower, and rank as a dominant nation-state. Since 1958, it has constructed a presidential democracy resistant to the instabilities experienced in earlier parliamentary democracies. In recent years, its reconciliation and cooperation with Germany have proved central to the economic integration of Europe.
Today, France is at the forefront of European states seeking to exploit the momentum of monetary union to advance the creation of a more unified and capable European defense and security apparatus.
• Paris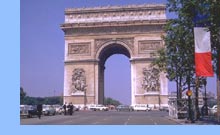 Paris (p. 10 million), the capital of France, has long inspired opinionated outbursts, from delusional to denouncing, but on one matter travellers remain in agreement: it's among the most stimulating cities in the world. Paris assaults all the senses, demanding to be seen, heard, touched, tasted and smelt. From luminescent landmarks to fresh poodle droppings on the pavement, the city is everything it should be - the very essence of all things French. If you go there expecting all you've heard to be true, you won't leave disappointed.
• Venue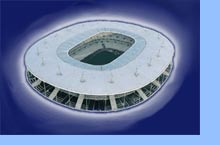 Matches scheduled for the first week of the competition (Monday 22 to Saturday 27 October inclusive) will be played in the magnificent Stade de France. These matches include the Round Robin for the Bermuda Bowl, Venice Cup and Seniors Bowl.
The Stade de France hosts all the major sporting events organized in France: World cups, European cups, World Athletics Championships, Olympic Games, etc. It was built over a period of 31 months and was inaugurated in November 1997. Obviously this is a very big venue for a bridge championship, hence only a small part will be used, namely the rooms Les Colonnades and Chorumand. The entrance to be used is for accessing these rooms is 'Gate D East'.
The Stade de France is located north of Paris, and south of Saint-Denis, occupying an enormous area of 17 hectares or 42 acres. It is only 1.5 km (.93 miles) from Paris and 7 km (4.34 miles) from Notre-Dame. The Stade de France is easily accessed with public transportation - one metro (Paris subway) line and two RER (express subway train) lines offer direct, fluid, safe transportation to and from the stadium. Pedestrian walkways from the stations easily guide the way. The Stade de France is located 8 minutes away from Châtelet-les-Halles and less than 30 minutes from Roissy-Charles de Gaulle Airport.
Detailed information on Stade de France is available on their website at www.stadefrance.com
From Sunday 28 October to the end of the championship ALL events will be played at the Hotel Concorde La Fayette.
• Hotel Concorde La Fayette
Ideally located few minutes from the Arc de Triomphe and Champs Elysées, the Concorde La Fayette is part of the largest Convention Center in Europe.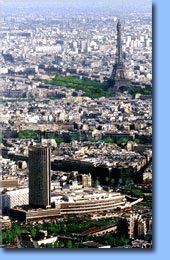 The Concorde La Fayette provides 500 standard rooms fully equipped with TV, minibar, and 24 hours room-service, a choice of 4 restaurants, an elegant Piano Bar, a Panoramic Bar with a breathtaking view over of the City of Lights, 3,500 m² of conference facilities, a catering service, a business center, and a concierge team available for any information.
The Concorde La Fayette also offers 200 newly renovated deluxe rooms, on the 'Altitude 360' floors (19th to 24th). Besides a great view of Paris, the 'Altitude 360' rooms offer additional services such as pay tv, video games, access to internet, and video check-out.


The Club La Fayette is a luxury hotel located at the top of the Concorde La Fayette. This distinctive and intimate hotel caters to the affluent business and leisure travelers, offering them 250 rooms in the sky of Paris, including 8 Presidential Suites (from 1 to 4 rooms), totally renovated with a new hi-tech design, and 25 Junior Suites. The Club La Fayette guests will enjoy a wide range of value added-amenities, and a breathtaking view for a prestigious stay in the sky of Paris.
Special rates have been arranged for the championship participants in Hotel Concorde La Fayette, as follows:
Hotel Concorde La Fayette room rates
Room (single/double)

Rates per night, per room
(breakfast and all taxes included)

DELUXE

€110

CLUB LA FAYETTE

€155

JUNIOR SUITE

€650

PRESIDENTIAL SUITE one room

€1,500

PRESIDENTIAL SUITE two rooms

€1,800
Hotel Concorde la Fayette
3, place du Général Koenig, F-75017 Paris, France

33-1-4068 5068
www.concorde-lafayette.com
33-1-4068 5043