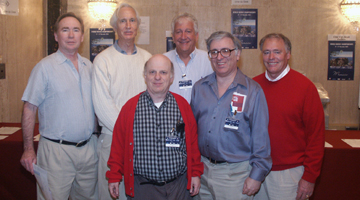 USA I, winners of the Senior Bowl: front, Steve Robinson and Kit Woolsey; rear, Roger Bates, Grant Baze, Gaylor Kasle and Garey Hayden.
| | |
| --- | --- |
| Table of Contents | Page |
| Final Fours Feature 'Family' Feuds | 1 |
| Israel v Australia - Senior Bowl Round 13 | 2 |
| Back in the Saddle | 3 |
| Juggernaut | 4 |
| France v USA1 - Senior Bowl Round 15 | 5 |
| Hand Stories | 6 |
While USA I were celebrating their victory in the Senior Bowl, four other American teams were making plans to play each other in the semi-final rounds of the Bermuda Bowl and Venice Cup, starting today. The World Transnational Open Teams is also under way, having started last night.
In the Senior Bowl, USA I lost to France in the final round-robin match, but the low-scoring, well-played set did not offer enough IMPs for the runners-up and they stayed in second. The winners are Gaylor Kasle, Roger Bates, Steve Robinson, Kit Woolsey, Garey Hayden and Grant Baze. The silver medallists are Pierre Adad, Maurice Aujaleu, Guy Lasserre, Philippe Poizat, Christian Mari and Francois Leenhardt. NPC was Yves Aubry.
With a victory over Israel, USA II earned the bronze medal. They are Dennis Dawson, Arnold Fisher, Zeke Jabbour, Clement Jackson, John Mohan and John Sutherlin (Carolyn Lynch NPC).
Most of the matches in the Bermuda Bowl and Venice Cup were runaways. Only Germany-Netherlands in the Venice Cup was close enough to generate interest. With 16 boards to play, the Netherlands, past champions, led Germany, the holders, by 15-IMPs. Germany had their chances, but they could not overcome a determine Dutch squad, who advanced to the semi-final with a 232-195 victory.
The semi-finals pit USA I vs. USA II in both knockouts, while Norway and Italy will do battle in the Bermuda Bowl round of four and the Netherlands will oppose China in the other Venice Cup match.