Schapiro a champ at 89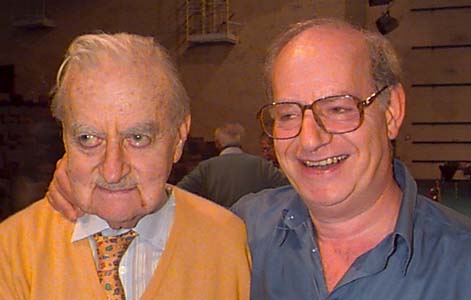 On the 60th anniversary of his first world championship victory, 89-year-old Boris Schapiro of Great Britain once again stands at the top of the heap. He and Irving Gordon, with a score of 2274.8, finished a full 100 points ahead of the field in the Elf Senior Pairs. Another world champion, Benito Garozzo of the United States and a former mainstay of the Italian Blue Team, finished second, playing with his regular partner, Lea DuPont.

In third place were Walter Hoger and V. Avensleben of Germany, only four points out of second.

Shapiro certainly is the oldest person ever to win a world championship - at 89 he is far ahead of any contender! The 1938 championship he won was considered unofficial - the World Bridge Federation wouldn't come into being for another 20 years. But he was a member of Great Britain's Bermuda Bowl championship team in 1955 and he also won the 1962 World Mixed Teams with teammates Nico Gardener, Fritzi Gordon and Rixi Markus.

Americans win Cara IMP Pairs

Russ Ekeblad and Michael Seamon of the United States, a relatively new pair although both are among America's leading players, yesterday won the Cara IMP Pairs with a score of plus 123.20. That was 2.35 points better than runners-up Dominique Masure and Marcel Leflon of France. A Russian pair, A. Ladyzhensky and A. Pavlov, were third with 120.30.

Americans out front in Société Générale Open Pairs

Larry Cohen and David Berkowitz, one of America's most successful partnerships, are in front in the Société Générale Open Pairs with one session remaining today. Melih Ozdil and Jerzy Zaremba of Poland were second.

French pair now lead Louis Vuitton Women's Pairs

Véronique Bessis and Catherine d'Ovidio of France had two good session yesterday to move into first place in the Louis Vuitton Women's Pairs. Their score of 2134.6 gave them a 45-point lead over Shawn Quinn and Jill Meyers of the USA.