The pride of Austria
Austria is the new Louis Vuitton McConnell Cup World Team Champion.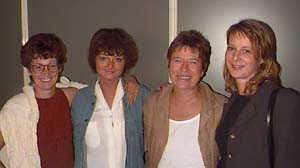 In a final that started out close but ended up being one-sided Austria defeated Germany to secure the McConnell Cup.

Three of the team, Maria Erhart, Doris Fischer and Terri Weigkrickt were winning their second World title having won the Teams Olympiad in Salsomaggiore in 1992. For Sylvia Terraneo it is her first World title.

Vivendi Rosenblum

After two exciting semi-finals it is Brazil's Chagas and Angelini of Italy who face each other in today's final.

Société Générale Open Pairs

At the midway point in the semifinal of the Open Pairs, America's Steve Weinstein and Michael Rosenberg lead from Piotr Gawrys and Marcin Lesniewski of Poland.

Louis Vuitton Women's Pairs

After two of the semi final sessions the leaders are China's Wang Wenfei and Zhang Yu. They lead by almost 2% from America's Amalya Kearse and Jacqui Mitchell.

Elf Seniors Pairs

Leading after two qualifying sessions are Great Britain's Boris Schapiro and Irving Gordon.