Three-nation team wins Senior Teams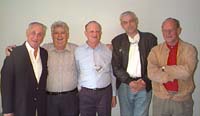 The team captained by Karl Rohan of Austria won a convincing 62-0 victory in the final of the Elf Senior Teams. As a matter of fact, that was the score after the first 14 boards of the 28-board match. The Polish team captained by Mr. Szenberg conceded the match at the halfway mark.
Playing with Rohan were Nissan Rand and Moshe Katz of Israel, Franz Baratta of Austria and Christo Drumev of Bulgaria. Rohan, Rand, Katz and Baratta were winning this event for the second straight time - they also were the victors in Albuquerque in 1994. The other two players on the 1994 team joined a different team this time around.
Rand and Katz played throughout. Baratta played half the time with Rohan and half with Drumov. Drumov, president of the Bulgarian Bridge Federation, spent many years as a diplomat in Vienna where he formed a partnership with Baratta.
Baratta, as captain, and Rohan, as a player, just missed winning the Bermuda Bowl in 1985 in Sao Paulo, Brazil, losing to the United States in the final. Earlier in that year they won the European Team Championship in the same capacities.
Rohan was a member of the WBF Executive for six years and he also was treasurer of the European Bridge League for 11 years. Now retired, he plans to spend nine months a year in Austria and three in Boca Raton, Florida.
Rand is chairman of the WBF Senior Committee. He and Katz just recently won the Senior Pairs and placed second in the Open Pairs in Israel.
Rohan told of the very first hand of the tournament - a hand that dealt by people, not by a computer. He picked up:
ª -
© A K Q J 7 6 4 3
¨ A K 8 4 2
§ -
His right-hand opponent opened 1§. Rohan decided this called for heroic measures so he bid 7©. He felt that scientific measures would never enable him to learn whether his partner had third-round control of diamonds. He was also fearful that his opponents might have a good save in spades. The next player doubled, and after the opening lead, this is what Rohan saw in dummy:
ª K Q 6 5 4
© 9 8 5 2
¨ 7
§ K 9 3
Grand slam bid and made - doubled! At the other table they stopped in 6©.
"When this happened on the very first hand, I felt that this was going to be our tournament," said Rohan. How right he was!